Flipkart Daily Trivia Quiz 23 November, Flipkart Trivia Quiz 23 Nov Answers Today :-  Submit all correct answers of the Quiz and win free vouchers. Flipkart Daily Trivia Quiz Answers is live.
Flipkart Trivia Quiz 23 November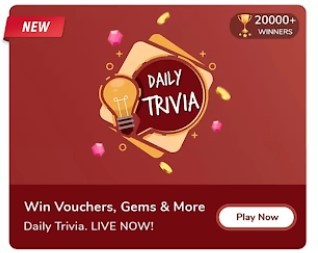 Flipkart Daily Trivia Quiz Details
| Quiz Name | Flipkart Daily Trivia |
| --- | --- |
|  Prize | Gems, Super Coins, |
| Quiz Time | 12 AM – 11:59 PM |
| Available On | Flipkart App Only |
| Winner Announced | After 15 Days |
How To Play Flipkart Quiz 23 November
1. First you all need to Download or Update your Flipkart App. Quiz hosted on Flipkart App only
2. Login or SignUp on Flipkart App, then click on Game Section inside app. (Here you will get many games).
3. Find Flipkart Daily Trivia Quiz contest and click on the banner.
4. Play Power Play Quiz, give correct answers of all 5 questions.
Flipkart Daily Trivia Quiz 23 November Answers
(Answers Will Updated at 12:02AM 23 November)
Q.1 In Hindu Mythology, who is the son of God Indra?
Ans. Jayanta
Q.2 Which vegetarian restaurant chain was founded by P. Rajagopala in 1981?
Ans. Saravana Bhavan
Q.3 To which country does the UNESCO world heritage site of 'Terracotta Army belong?
Ans. China
Q.4 Which popular dish uses basil seeds as its main ingredient?
Ans. Falooda
Q.5 Apart from Germany, which country government is headed by a chancellor?
Ans. Austria
Offers Details
1. This Flipkart Daily Trivia Quiz contest will commence on 29th July 2020 From 12:00:01 PM (IST) to 2th July 11:59:59 PM (IST) ("Contest Period").
2. To participate in the contest you must do/fulfill the following
3. Age must be 18 years or above
4. Must have a valid account on the platform and log in using the same on the Flipkart mobile App.
5. As part of this contest, you have to answer simple questions that will be prompted on clicking the quiz banner on the Gamezone page on the Flipkart App and website during the contest period.
6. You will need to select a response to the question prompted in the quiz. Subsequent responses from the same account ID is invalid. The user can only take the survey once and will get the reward.
7. There will be a quiz running every day.
8. Winners will be announced within 15 days from the date of participation and can check the same in their gems/rewards section.
9. You acknowledge and confirm that you are aware of the nature of telecommunications / internet services and that an email transmission may not be received properly and may be read or be known to any unauthorized persons.
10.You agree to assume and bear all the risks involved in respect of such errors and misunderstanding and Flipkart shall not be responsible in any manner.