Amazon Quiz 23 April 2021 is live now. Answer all questions and get a chance to win ₹25,000.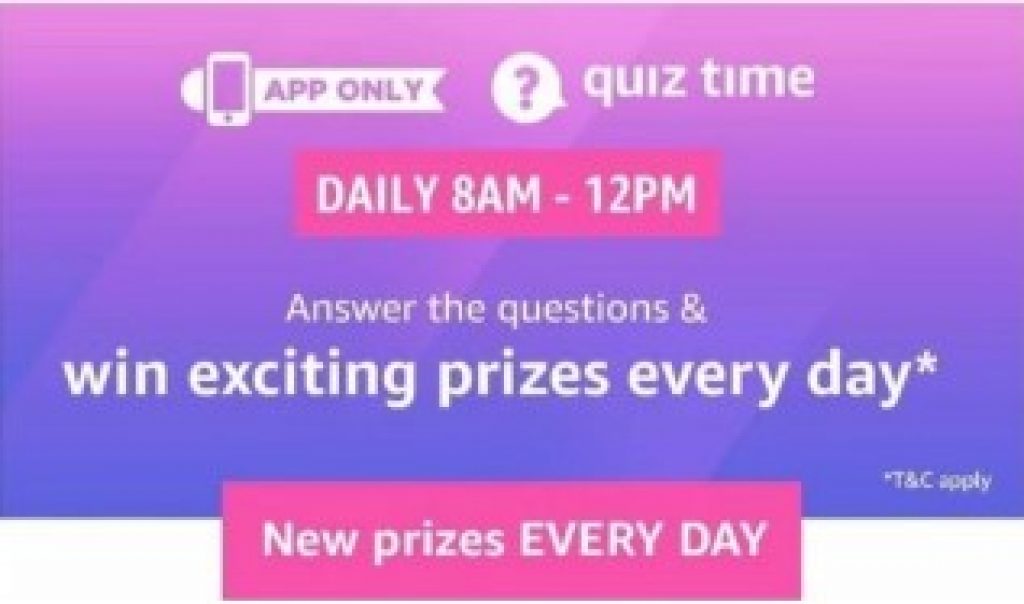 Amazon Quiz 23 April Details
Quiz Name – Amazon Quiz
Today's Prize – ₹25,000
Quiz Date – 23 April 2021
Quiz Time – 12:00 AM – 11:59 PM
Winners Announced – After 15 Days
Amazon Quiz 23 April 2021 Answers
Q.1 In The Series Falcon And The Winter Soldier Who Is The US Government's Choice To Become The New Captain America?
Ans. John Walker
Q.2 The Controversial Interview Of Oprah Winfrey With Prince Harry And Meghan Markle Also Aired In India, Was Originally On Which Network?
Ans. CBS
Q.3 It Has Been 10 Years Since India's Iconic World Cup Triumph On April 2nd, 2011. Who Was India's Top Run Getter In The Match?
Ans. Gautam Gambhir
Q.4 Which Breed Of Cat, Gets Its Name From An Old Name Of This Country?
Ans. Siamese Cat
Q.5 Which Indian State Gets Its Name From The Celestial Body Shown In This Visual?
Ans. Arunachal Pradesh
Flipkart The Bid & Win Answers 23 April 2021
Flipkart Power Play Answers Today 23 April 2021
Flipkart Aage Kya Quiz Answers 23 April 2021
Amazon Quiz 23 April 2021 Answers Today
Flipkart Daily Trivia Quiz Answers 23 April 2021
Flipkart Fake Or Not Fake Quiz 23 April 2021 Answers Today
Flipkart FYI Quiz Answers 23 April 2021 Today
Also Play
Amazon OPPO A74 5G Quiz Answers Win Rs.20,000
Amazon Panasonic AC Quiz Answers Win Rs.10,000
Amazon World Health Day Quiz Answers Win Rs.25,000
Amazon LG Laptop Quiz Answers Win Rs.20,000
Amazon Kids Carnival Quiz Answers Win Rs.10,000
Amazon World Wildlife Day Quiz Answers Win Canon EOS 80D
Amazon March Quiz Answers Win ₹15,000 Pay Balance
Amazon LG Tone Free Quiz Answers Win ₹10,000
Amazon Alexa Built -In Phones Quiz Answers February 2021 Win ₹10,000
How To Play Amazon Contest
1) First Download  Amazon App | Install & Open App in your Android Mobile
2) Login / Sign-Up – Enter Quiz Time in Search Box. You will see Today's Quiz banner
3) Make click on Amazon Quiz banner to participate in quiz contest
7) Give correct answers of all 5 questions to enter in lucky draw