Champcash Customer Care Number
Champcash customer Care Number, What's App Number For Resolving All issues. Champcash every one know oday about Champcash (Earn Money Online For Free). you can check Tcc Live Rate Today. We earn lot's off money from cgampcash. Champcash gave as many things. But if any one face any problem (Technical issues) or joining problem, Pay out problem. They can contact to Champcash Customer Care. 
But to contact Champcash pvt. ltd. Cutomer Care Number must needed. So today we update all Champcash Customer Care Toll Free Number, What's App Number and more at one place.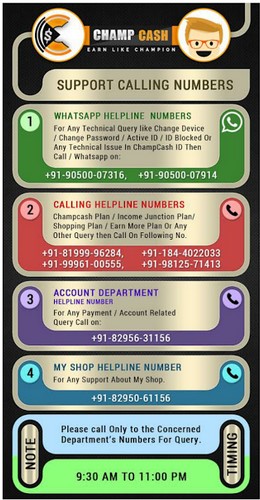 Champcash Customer Care Number, What's App Number, Office Address And More
Champcash Customer Care Number, Toll Free Number

 

Champcash Customer Care Number :- Calling Helpline Numbers

 

+91-81999-969284,

+91-184-4022033

+91-99961-00555,

+91-98125-71413

 

What's App Helpline Numbers :- 

 +91-90500-07316, +91-90500-07914

 

Account Department Helpline Number :-

+91-82956-31156

(For any payment / Account related query call on these numbers)

My Shop Helpline Number :-

+91-82950-61156

(For any support about My Shop)

Champcash Registered Office Address

Champcash Networks Pvt. Ltd. SCF-29, Main Market Sector-14, Karnal, Haryana, India

 

Champcash Email Address

 [email protected]

Champcash Social Media Profiles

 

FaceBook Page :-

 –
 

Twitter Account :-

 

twitter.com/campcash

Google Plus Page :-

–

Champcash Important Urls

 

Official Website of Champcash :-

 http://www.champcash.com

Contact Us :-

 http://www.champcash.com/contact

FAQ :-

Download Champcash App

Support :-

–