Amazon Quiz 6 August 2021 is live now. Answer all questions and get a chance to win ₹25,000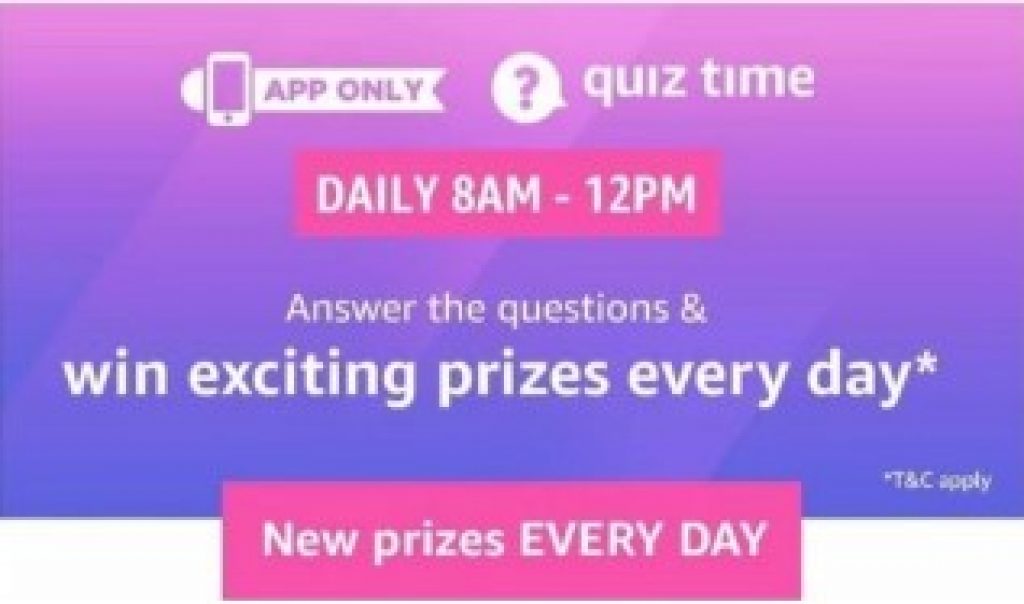 Amazon Quiz 6 August Details
Quiz Name – Amazon Quiz
Today's Prize – ₹25,000
Quiz Date – 6 August 2021
Quiz Time – 12:00 AM – 11:59 PM
Winners Announced – Next Day
Amazon Quiz 6 August 2021 Answers
Q.1 During A Felicitation Ceremony, The President Of Which Country Bestowed The Title Of The 'Flying Sikh' Upon Milkha Singh?
Ans. Pakistan
Q.2 Oscar-Winning Actor Emma Stone Portrays Which Iconic Disney Villain In A 2021 Film?
Ans. Cruella De Vil
Q.3 Pine Island Glacier, One Of The Fastest Melting Glaciers, Is Located In Which Place?
Ans. Antarctica
Q.4 Which Empire Does This Type Of Furniture Share Its Name With?
Ans. Ottoman Empire
Q.5 What Type Of Animal Is This, That Surveys Its Environment By Standing On Its Hind Legs?
Ans. Mongoose
Amazon Upcoming Sale June 2021
Flipkart Ladies Vs Gentleman Quiz Answers Today
Flipkart Daily Trivia Quiz Answers Today
Flipkart Aage Kya Quiz Answers Today
Flipkart Daam Sahi Hai Quiz Answers Today
Flipkart Prize Wali Paathshala Quiz Answers Today
Flipkart Fake Or Not Answers Today – Win Gift Vouchers
Also Play
Amazon Fathers Day Quiz Answers Win ₹20,000
Amazon Redmi Note 10S Quiz Answers Win SmartPhone
Amazon Samsung Tablet Quiz Answers Win ₹10,000 Pay Balance
Amazon World Milk Day Quiz Answers Win ₹25,000 Pay Balance
Amazon June Quiz Answers Win ₹50,000 Pay Balance
How To Play Amazon Contest
1) First Download  Amazon App | Install & Open App in your Android Mobile
2) Login / Sign-Up – Enter Quiz Time in Search Box. You will see Today's Quiz banner
3) Make click on Amazon Quiz banner to participate in quiz contest
7) Give correct answers of all 5 questions to enter in lucky draw