Amazon Quiz 26 April 2021 is live now. Answer all questions and get a chance to win ₹10,000.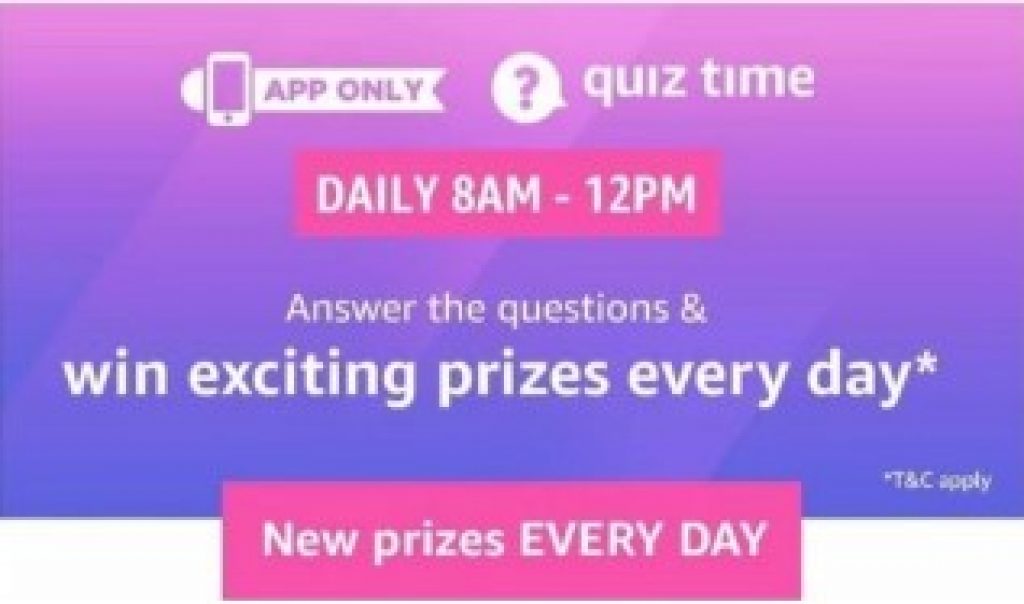 Amazon Quiz 26 April Details
Quiz Name – Amazon Quiz
Today's Prize – ₹10,000
Quiz Date – 26 April 2021
Quiz Time – 12:00 AM – 11:59 PM
Winners Announced – After 15 Days
Amazon Quiz 26 April 2021 Answers
Q.1 During Easter, Confectioners In Which Country Often Make Chocolate Likenesses Of The Rabbit Sized Marsupial – The Bilby?
Ans. Australia
Q.2 Pandit Ravi Shankar Was Born On April 7th, In Which City Known As A Pilgrimage Spot?
Ans. Varanasi
Q.3 Amid COVOD-19 Concerns, Which Tournament Usually The First Masters 1000 Event Of The ATP Season Was Postponed?
Ans. Indian Wells
Q.4 Which Is This Animal, Than One May Encounter On The Way To Mount Everest?
Ans. Yak
Q.5 This Is A Memorial Dedicated To Which Great Leader?
Ans. Martin Luther King Jnr
Flipkart The Bid & Win Answers 26 April 2021
Flipkart Power Play Answers Today 26 April 2021
Flipkart Aage Kya Quiz Answers 26 April 2021
Amazon Quiz 26 April 2021 Answers Today
Flipkart Daily Trivia Quiz Answers 26 April 2021
Flipkart Fake Or Not Fake Quiz 26 April 2021 Answers Today
Flipkart FYI Quiz Answers 26 April 2021 Today
Also Play
Amazon Mi 11 Series Quiz Answers Win Mi 11X
Amazon Smart Monitor Quiz Answers Win Rs.10,000
Amazon Samsung Galaxy M42 5G Quiz Answers Win SmartPhone
Amazon World Book Day Quiz Answers Win Rs.20,000
Amazon OPPO A74 5G Quiz Answers Win Rs.20,000
Amazon Panasonic AC Quiz Answers Win Rs.10,000
Amazon World Health Day Quiz Answers Win Rs.25,000
Amazon LG Laptop Quiz Answers Win Rs.20,000
Amazon Kids Carnival Quiz Answers Win Rs.10,000
Amazon World Wildlife Day Quiz Answers Win Canon EOS 80D
Amazon March Quiz Answers Win ₹15,000 Pay Balance
Amazon LG Tone Free Quiz Answers Win ₹10,000
Amazon Alexa Built -In Phones Quiz Answers February 2021 Win ₹10,000
How To Play Amazon Contest
1) First Download  Amazon App | Install & Open App in your Android Mobile
2) Login / Sign-Up – Enter Quiz Time in Search Box. You will see Today's Quiz banner
3) Make click on Amazon Quiz banner to participate in quiz contest
7) Give correct answers of all 5 questions to enter in lucky draw