Amazon Quiz 11 May 2021 is live now. Answer all questions and get a chance to win Huami Smart Watch.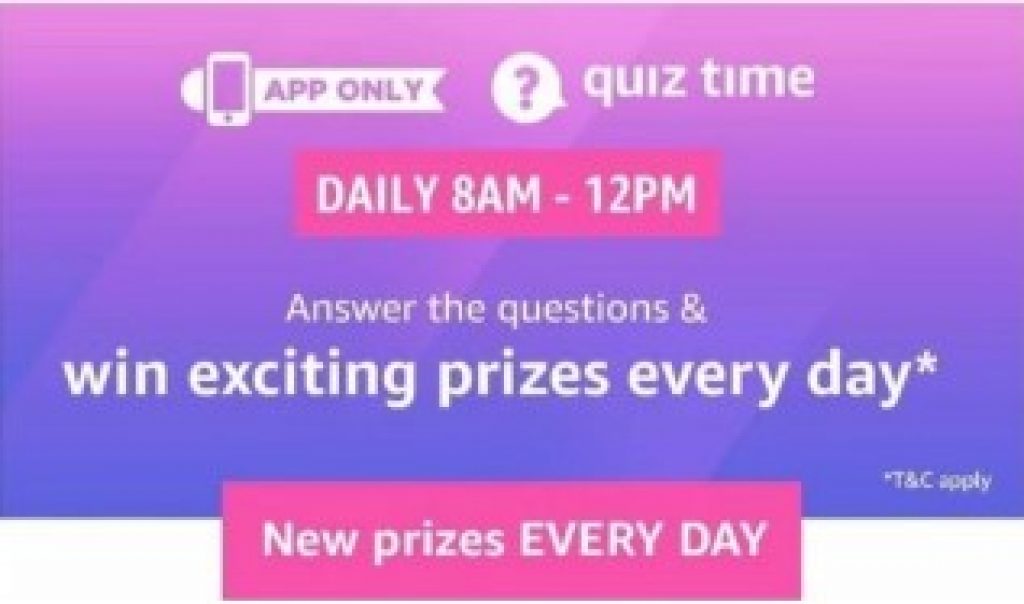 Amazon Quiz 11 May Details
Quiz Name – Amazon Quiz
Today's Prize – Huami Smart Watch
Quiz Date – 11 May 2021
Quiz Time – 12:00 AM – 11:59 PM
Winners Announced – After 15 Days
Amazon Quiz 11 May 2021 Answers
Q.1 Vinod Kapri's Compelling Book '1232 Km : the Long Journey Home' Tells The Story Of Which Of The Following Group Of People?
Ans. Migrant Labourers
Q.2 Prime Minister Narendra Modi Announced Swarna Jayanti Scholarship For The Youths Of Which Neighbouring Nation?
Ans. Bangladesh
Q.3 Which Of These Festival Involve Shifting Idols From Odisha To PollVillage In Andhra Pradesh?
Ans. Manyamkonda Yatra
Q.4 Name The American Company That This One Partnered Up With In 2019 To Make Candy Flavored Coffee.
Ans. Dunkin'
Q.5 What Kind Of Instrument Is This?
Ans. String
Flipkart Power Play Answers Today 11 May 2021
Flipkart Aage Kya Quiz Answers 11 May 2021
Amazon Quiz 11 May 2021 Answers Today
Flipkart Daily Trivia Quiz Answers Today 11 May 2021
Flipkart Fake Or Not Fake Quiz Answers Today 11 May 2021
Flipkart Prize Wali Paathshala Quiz Answers Today 11 May 2021
Flipkart Daam Sahi Hai Quiz Answers 11 May 2021
Also Play
Amazon Mothers Day Quiz Answers Win ₹25,000
Amazon Funzone Riddles Quiz Answers Win OnePlus 9 5G
How To Play Amazon Contest
1) First Download  Amazon App | Install & Open App in your Android Mobile
2) Login / Sign-Up – Enter Quiz Time in Search Box. You will see Today's Quiz banner
3) Make click on Amazon Quiz banner to participate in quiz contest
7) Give correct answers of all 5 questions to enter in lucky draw