Amazon Quiz 10 May 2021 is live now. Answer all questions and get a chance to win ₹15,000.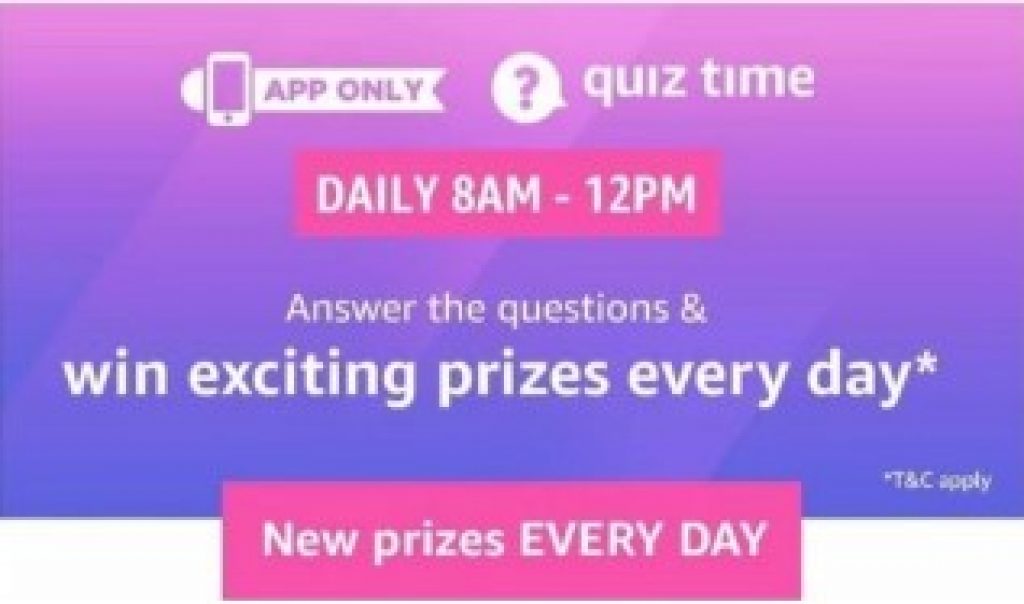 Amazon Quiz 10 May Details
Quiz Name – Amazon Quiz
Today's Prize – ₹15,000
Quiz Date – 10 May 2021
Quiz Time – 12:00 AM – 11:59 PM
Winners Announced – After 15 Days
Amazon Quiz 10 May 2021 Answers
Q.1 Which Indian State Has Released A Commemorative Postage Stamp On 100 Years Of First Visit Of Mahatma Gandhi To The State In 1921?
Ans. Odisha
Q.2 Novelist Sharankumar Limbale Was Awarded Which Of These Prizes In 2021 For His Novel 'Sanatan'?
Ans. Saraswati Samman
Q.3 Late Sultan Qaboos Bin Said Al Said, Who Received The 2019 Gandhi Peace Prize, Was The Sultan Of Which Country?
Ans. Oman
Q.4 This Famous Bar, Belongs To Which Of These Groups?
Ans. Mars
Q.5 What Is The Name Of The Taylor Swift Song That Has This Object In The Title?
Ans. Teardrops On My Guitar
Flipkart Power Play Answers Today 10 May 2021
Flipkart Aage Kya Quiz Answers 10 May 2021
Amazon Quiz 9 May 2021 Answers Today
Flipkart Daily Trivia Quiz Answers Today 10 May 2021
Flipkart Fake Or Not Fake Quiz Answers Today 10 May 2021
Flipkart Prize Wali Paathshala Quiz Answers Today 10 May 2021
Flipkart Daam Sahi Hai Quiz Answers 10 May 2021
How To Play Amazon Contest
1) First Download  Amazon App | Install & Open App in your Android Mobile
2) Login / Sign-Up – Enter Quiz Time in Search Box. You will see Today's Quiz banner
3) Make click on Amazon Quiz banner to participate in quiz contest
7) Give correct answers of all 5 questions to enter in lucky draw